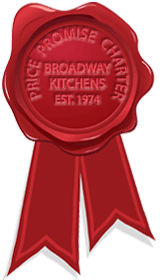 Recession Bites Kitchens
26th February 2013
Don't Forget to Add Colour in the Kitchen
6th March 2013
Market demand for modern, shaker-style, traditional and country-style kitchens has not diminished. Astute buyers realise that quality matters with a fitted kitchen and so the demand for Broadway Kitchens remains buoyant.
We are currently working on bespoke kitchens designed to meet the precise requirements and lifestyles of new customers in Ayr, Bristol, Chelsea, Glasgow, Isle of Wight, Liverpool, Reading, Sutton Coldfield and Wolverhampton, plus all of the counties around the West Midlands region which surround our carpentry workshops. Some of our customers visit our workshops to see their own kitchen being hand-crafted and talk to our craftsmen.
Astute home owners realise that investing £15,000, for example, on a quality fitted kitchen in a £400,000 house, depending on location is likely to add between 5 and 10% to the value of the property when sold. Meanwhile those owners have the use of the kitchen of their dreams and display immense pride in their investment.
So confident are we in our ability to produce a kitchen to suit the period of a house and the home owner's taste that we hope any prospective customer requesting a quote, will also obtain rival quotations, and our Price Promise Charter means we'll promise to beat any like-for-like quotation.
Our confidence extends to our financial stability, and we are happy for customers to conduct a company search on our business history, as we'd recommend that they do for any potential supplier.
After nearly four decades of successfully meeting the needs of our customers we are delighted to greet the same customers returning to us when they move house, need a new kitchen or decide to change their bedroom, bathroom, study or entertainment area.  We don't need salespeople as our customers are happy to show off our work, give references and make recommendations to others – the same cannot be said of many companies operating from kitchen showrooms.
We often receive enquiries and orders from the children of our early customers; and we are also designing kitchens and supplying fitted furniture for other rooms to the grandchildren of those early customers. We derive enormous pleasure from dealing with three generations of the same family and once they've been a Broadway customer they become a friend for life, even dropping in for a coffee when passing.
This article is an unashamed introspective look at why we are so successful at maintaining our national reputation for affordable quality and unrivalled service, and we are justifiably proud of our achievements. Don't just take our word for it – ask to speak to some of our customers, or request a visit to see their fitted kitchens and other rooms we've refurnished.
We'd like you to be part of our success story and we'd be happy to visit you to discover what you want from your very own individually designed Broadway kitchen. Our design consultation is free of charge and without obligation, and takes between 30 and 45 minutes. Give us a call, we'd be glad to hear from you.