Broadway Kitchens, Birmingham UK
World-Class Kitchens at Sensible Prices from a Long Established (1974) UK Manufacturer
Broadway Kitchens and Bedrooms (Midlands) Ltd is a family owned and run business with true family values. From your first contact with Broadway kitchen designers you are promised an experience that demonstrates our commitment to ensuring your total 'Peace of Mind'.
With over 40 years experience in kitchen design, manufacture and installation, we feel we have the expertise that matters to you. Our experienced team regularly creates new kitchen styles and ranges, is always at the forefront of new technology and is dedicated to providing high-quality furniture at competitive prices.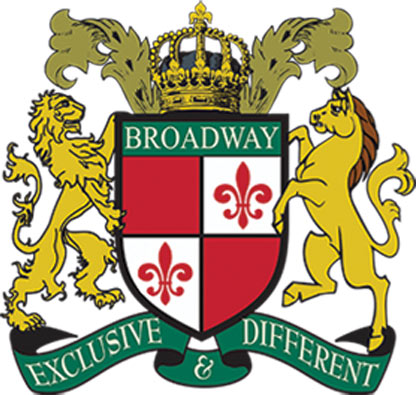 From your Broadway kitchen designer to your assigned site manager, every Broadway team member is committed to providing a high-quality personal service. Our customer service team is renowned for their attentiveness and attention to detail. During your installation they will visit your home and maintain regular telephone contact with you to ensure that the fitting is right first time.
You will be given the direct phone number of every team leader involved in your new kitchen project because our aim is to create a partnership and to work with you to meet your every wish, therefore giving you the kitchen of your dreams.
For further reading see also...
Why Choose Broadway Bespoke Kitchens
Peace of Mind From a Family Business
Based conveniently in The Midlands UK, Broadway kitchens are renowned bespoke kitchen designers and through three generations since 1974 our family business has been designing, manufacturing and installing high quality fitted kitchens and other bespoke handmade wooden furniture in customers homes.
Our family values are: honesty, high quality and good old fashioned personal service. With thousands of delighted customers we have worked hard to earn our good reputation and the trust of so many. See our testimonials page.
Families have grown up in a Broadway handmade kitchen, and we are now installing fitted kitchens and other room furniture for the grandchildren of our early customers - that speaks for itself.
Manufacturer's Prices Without Compromise
We are able to set our prices at sensible levels because we don't have dozens of expensive kitchen showrooms. We are based in the Midlands with comparatively lower costs than firms based in London and the South East. We are a manufacturer - so you are dealing directly - no middleman. We own all our workshops outright and all the equipment in them - thus we are not laden with high overheads.
Our prices are all-inclusive and our service is comprehensive - which includes advice, kitchen design, manufacture, installation and project management. Because of this your kitchen project will be less consuming of your time when compared to using multiple service providers for each aspect.
Comprehensive Nationwide Service
We offer a nationwide kitchen design service and manufacture world-class bespoke furniture at sensible prices. We create and build bespoke kitchens and other high-quality handmade wooden furniture in our own workshops in the heart of England (Walsall) and install them all over the country.
We offer a one-stop comprehensive solution to all your requirements - inspiration, advice, design, manufacture, installation (including sourcing, supply and installation of appliances) and total project management.
You are welcome to visit our workshops to see our craftsmen at work. A warm welcome awaits you.
Try Before You Buy
Our beautiful kitchen showroom, conveniently located in the Midlands, has a selection of high-quality fitted kitchens and other rooms to view but also using our state-of-the-art 3D kitchen design software we can show you how your ideal kitchen design will look in photo-realistic full colour, from any viewpoint - see example screenshots.
You can choose the style and type of doors and fittings, worktop and finishes, type of flooring, lighting and wall coverings, etc. You can also request to view actual kitchen installations from a pool of thousands of delighted customers.
Premium Materials and a Wide Choice of Finishes
Worktops are available in hardwoods, marble and granite for durability and looks. We use full length and width slabs when available - rather than piecing smaller segments together. We use superior and durable hardwoods like Maple, Cherry, Walnut and Oak for kitchen doors, paneling, shelves, carvings, etc; and avoid woods from unsustainable forests - like Teak, Mahogany, Ebony, etc.
Our timbers are appropriately stored for many months to ensure they are dimensionally stable and free from faults. Finishes are varied - from hand-painting, tough lacquered finishes and also natural oiled and stained finishes.
You are welcome to visit our West Midlands workshops to see our materials, equipment and craftsmen at work, they will be happy to chat to you about the processes they use. This will give you a higher appreciation of the quality of our bespoke furniture.
As you can see from the extensive photographs on our website we offer a wide and versatile choice of styles and finishes - from distressed finishes and ornate carvings in our Traditional Kitchens range through to sleek, shiny and minimalist in our Designer and Modern Kitchen ranges.
10 Year Warranty
All Broadway kitchens and other room furniture have a genuine 10 year warranty.
As a caring, professional, family company your satisfaction is guaranteed. Furthermore, when many of our customers are proud to show others their Broadway kitchen (by request), you know they are delighted. But don't take our word for it, take our customers' words instead. See our Customer Testimonials page.
We are proud of what we do for our customers and naturally, we would appreciate having the opportunity to design your kitchen or other room furniture too.
Comprehensive Bespoke Kitchens Service
We provide a comprehensive bespoke kitchen design, build and installation service - 'comprehensive' as we project manage everything and employ all our own designers, craftsmen AND fitters. Because of this our customers benefit from less of their own personal time being spent on research and project management.
In addition, our customers find they can manage their home improvement budget more effectively because our bespoke kitchen service is comprehensive and our prices are all-inclusive.
A 'bespoke kitchen service' - meaning we create custom kitchen designs to suit your exact needs and desires and can use a very wide choice of styles, shapes, arrangements, woods, finishes, colours, etc; to produce beautiful and exclusive luxury bespoke kitchens.
See our article about colour schemes for hand painted bespoke kitchens.
Wide Variety of Appliances, Accessories, Flooring and Lighting
Our bespoke kitchens service is 'comprehensive' also with regard to our tasteful integration of high-quality and complementary kitchen appliances, fittings and matching extras - such as ovens, hobs, fridges, dishwashers; not forgetting sinks, tiles, lighting and flooring, etc. If required, we can also produce matching tables, chairs, radiator covers, wall units, shelves, etc.
Durable and High Quality Materials
Broadway is a long established 'handmade kitchens' specialist, so all our bespoke kitchens are custom made using fine hardwoods and traditional techniques - for durability and great looks.
All rooms today have to meet many demands; they are different things to different people. The kitchen is now seen as the hub of the home and kitchen cabinets have to be robust and made from high quality hardwoods to withstand the increased use - we use fine Oaks, Cherry and Maple.
Kitchen worktops, whether they be laminated, granite, quartz or a man-made composite, not only have to look nice, they also have to be able to withstand the daily rigours of a modern lifestyle.
Wide Range of Kitchen Styles
We are equally experienced in crafting luxurious and grandiose period bespoke kitchens such as Edwardian and Victorian kitchens (also Georgian style kitchens and Regency style kitchens) as we are in creating ultra modern designer kitchens, traditional country kitchens and Shaker kitchens.
Each style can be finished in various ways - natural wood, lacquers, stains and oils, as well as distressed styles and high-gloss. For hand-painted bespoke kitchens we use the same specialist painters as used by Clive Christian kitchens and furniture, etc, and have done so for over a decade now.
Bespoke Kitchens 3D Modeling Software
Our state-of-the-art photo-realistic 3D bespoke kitchens design modeling software enables us to custom design your dream kitchen with total freedom (hence why we call them 'bespoke kitchens') and then take you on a virtual walk through from any angle.
From there we can amend, add accessories and fine tune to suit your desires. This process helps our customers really get to know their dream kitchen before our craftsmen and traditional cabinet makers have even picked up their tools. This gives our customers peace of mind. See examples of computer designs.
For further related details see also How we Create your Dream Kitchen.