Kitchen Islands
If you want to increase the value of your home, it may be worth considering the addition of a kitchen island. A bespoke luxury kitchen island will also be of benefit to your everyday life with the addition of more usable workspace and storage.
What is a Kitchen Island?
A kitchen island is a hand-made free-standing piece of furniture made specifically for your kitchen providing additional work surface and storage space. Often positioned in the middle of the room it is a useful versatile addition to a kitchen and will often contain some interesting features.
Adding a bespoke luxury kitchen island will be a welcome addition to your home if your kitchen has enough room for it. More kitchen cabinets or countertop space would in most cases be a great advantage.
If you need additional countertop space, a kitchen island can be a great way to increase this. Many homeowners tend to leave small appliances on worktops next to the kitchen's walls this uses up the immediate space, additional work surface on a kitchen island will allow you to keep your smaller appliances out and use the island as your workspace.
The kitchen is normally a hub of activity. Large spacious kitchens can be enhanced with a table-shaped island accompanied by chairs or stools and can be a great way to encourage eating in the kitchen while also providing you with additional worktop space. Kitchens where space is limited can also benefit from an island, but more consideration needs to be put into the design; add a small raised area with stools to the end of the island to maximise space but still provide a useful sized work area.
History of the kitchen island
Islands were not heard of until the invention of the range cooker. With these cookers being cited in the centre of the kitchen, chopping blocks, often referred to as butchers blocks and other forms of kitchen furniture were attached either side to allow a preparation area next to the stove. Over time these areas became larger to accommodate more and more of the pans and utensils used in the kitchen.
Stoves and/or cookers were moved to the outside wall to allow for the more progressive use of extractors. These workstations were still used in the centre of the kitchen often being replaced by a large table with racks above on which to hang your pots and storage underneath.
What's the difference between a Kitchen Island and a Peninsula?
A bespoke kitchen island is not connected to the rest of the kitchen and has space on all sides to move freely around your kitchen space unlike a peninsula which is connected to your existing kitchen and often forms a U-shaped kitchen. Peninsulas are also most often used as a divider between the kitchen and the dining room.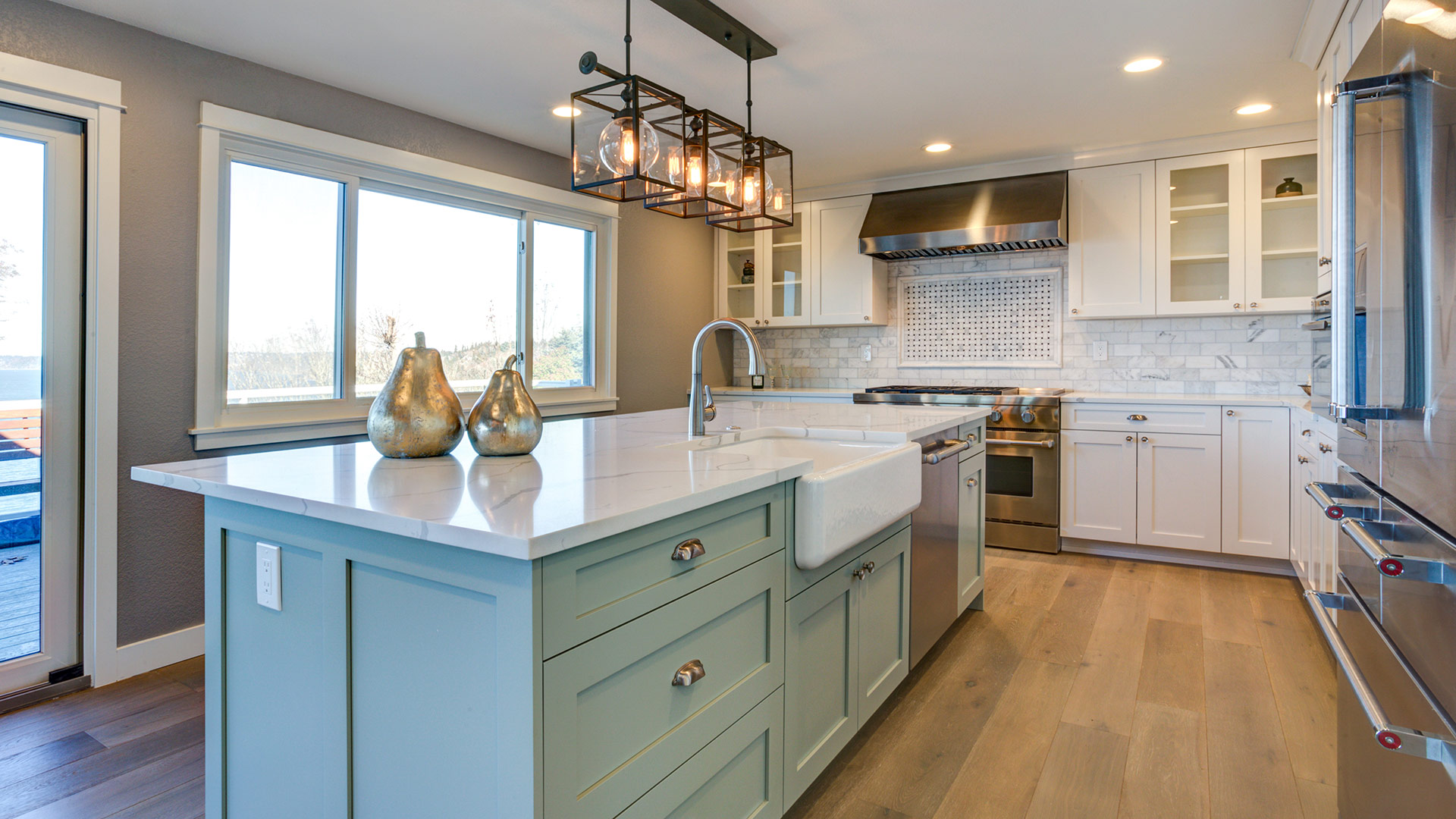 Which kitchen island shape should I choose?
The best way is to look at the vast array of islands and judge which one you feel suits you, is to take pictures of the designs you prefer after researching them on the internet or in magazines. Take these images with you when visiting your kitchen designer and have them incorporate your favourite features into your own luxury designer kitchen island of your dreams.
Will a kitchen island add value to my home?
Yes. If you want to increase the value of your home, it may be worth considering the addition of an island. The cost of adding a bespoke luxury kitchen island will also be of benefit to your everyday life with the addition of more usable workspace and more storage spaces.
What is the purpose of a kitchen island?
Whatever sized kitchen you have it's often difficult to find counter space when you need it. Often, the problem is that the kitchen has so many useful small appliances, there isn't as much countertop space as you'd like for prepping food. This is one of the big advantages to having a kitchen island as it gives you more space to prepare food without feeling restricted. The space can also be easily converted into a great place to serve food.
What will I use an Island for?
A bespoke kitchen island is made with your needs in mind, but most kitchen islands have the same basic purposes.The most popular reasons for getting an island are:
Preparation area – offering more worktop space.
Storage – this can be added in many forms maybe as just normal cupboard space if its needed. You can add a sink to your Island, maybe some pan drawers below your hob or even some concealed bins beneath your prep area for ease of rubbish removal. Another great addition to your usefully designed kitchen island is a wine cooler. Making it easy and handy for a nice chilled glass of wine at any time.
Eating – Perfect for a set of highchairs or bar stools, your Island can become a quick and comfortable eating area for times when you don't want to be bothered with the formality of using the dining table.
Last of all and probably most importantly your beautifully arranged kitchen island can be a wonderful place to socialise. A gathering of close friends around the central point in your kitchen; what could be better.
Can I fit an island into my narrow kitchen?
In the past kitchen island have been more suitable to large square kitchens. When you purchase your island from a bespoke kitchen company, they will be able to tailor it to your needs and requirements, often finding ways for an island to fit in your narrow or small kitchen space. An island with a wave can help alleviate the lack of space in narrow kitchen and make it easier to move around.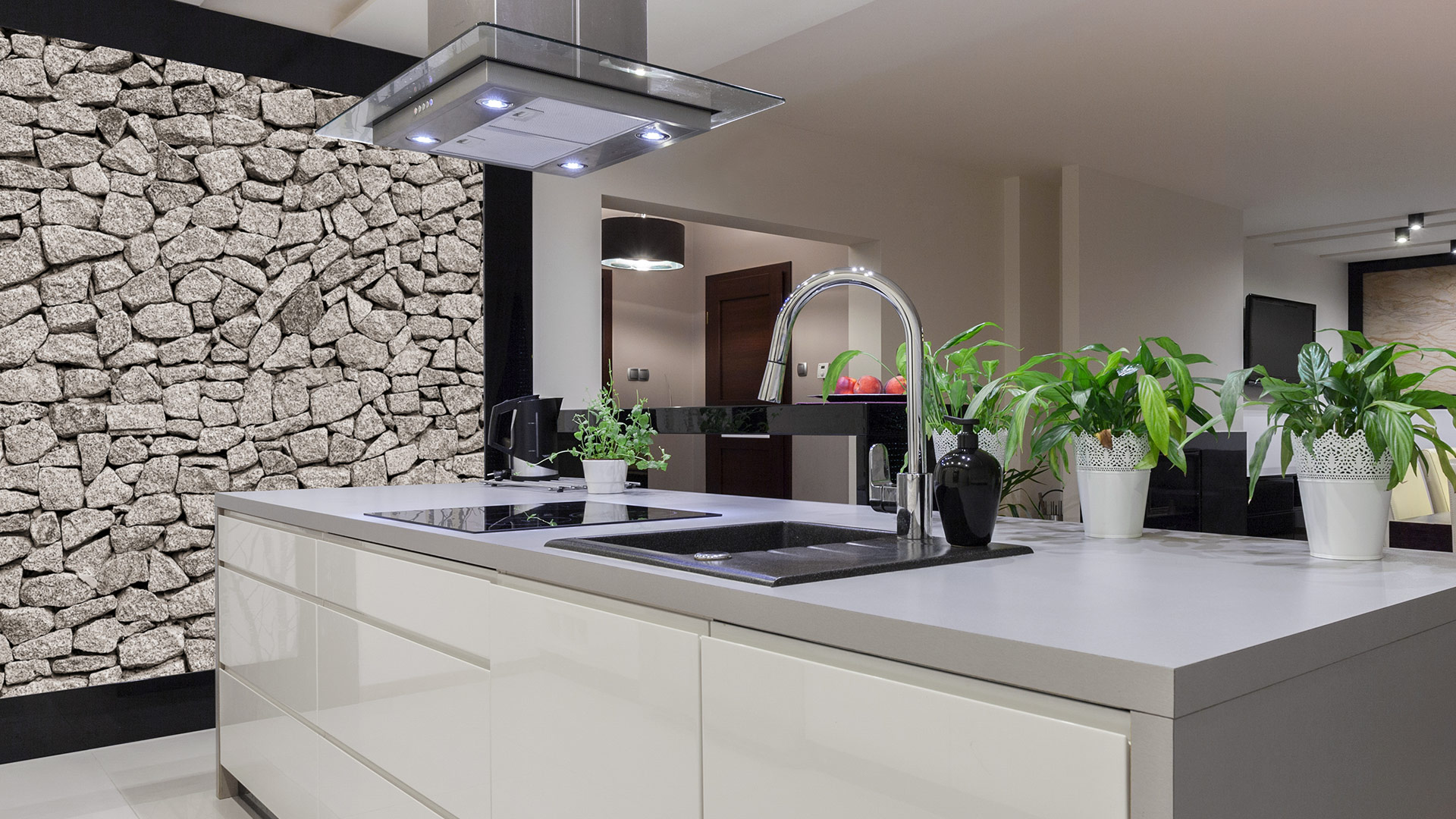 Does my kitchen island have to be the same colour as the rest of my kitchen?
No, the latest trend making its way into the bespoke kitchen market is to add contrast and dimension to your kitchen. One of the easiest ways to implement this is by using two different colours, one on the island and another on the rest of the kitchen cabinets. You can also use different materials with the addition of some warming wood tones or some cool metal for the more modern kitchens.
What if I haven't got room for an island and a separate kitchen table?
An additional seating area to one side of the kitchen island looks stunning as well as being functional. Kitchens that are low on space benefit from having a seating area attached to a kitchen island to save space and successfully eliminates the need for a separate kitchen table.
How much space do you need between kitchen island and cabinets?
It is recommended that 36 inches should be allowed between an island and the kitchen furniture attached to your walls. If the counter space contains a work area and appliances such as a sink, cooker or dishwasher, then the space should be 42 to 48 inches wide to allow for the opening of appliances etc.
Benefits summary of a kitchen island
Obvious benefit is additional preparation area
Extra preparation sinks
Refrigerator drawers
A hob
Dishwasher
Ovens
Seating area
Storage areas
Pop up extractor hood
Different types of kitchen islands
It is easiest all round to show pictures of some of the different types of island units. No island should be the same as another, they are all representative of the person who's home it is going into.
With the invention of new forms of extractors that can be placed on the kitchen ceiling more and more people are reverting back to the cooking space being centralised making an easier functioning room.
Disadvantages of a kitchen island
There are disadvantages to a kitchen island, but the advantages do out-weigh these.
It is important to make sure that you don't overcrowd your kitchen with an overly large island, this could not only make the room look smaller but could also lead to accidents around the kitchen.
A luxury bespoke hand-made kitchen can be a beautiful purchase, but adding beauty to a kitchen can sometimes work out very expensive. Be careful not to throw too many things at the design and try to keep it simple, stylish and affordable.
Having an island unit can sometimes obscure the view of an expensive appliance such as an Aga cooker. A designer will take this into account when designing your kitchen for you.
If you are thinking of having an island with a sink and taps, think about where the water source is in the kitchen. It may be necessary to have a plumber to connect water underneath the kitchen island. This can be made difficult and sometimes impossible if there is underfloor heating or solid tiled floors.
It's easy to forget about needing to open doors etc, so sufficient space is needed in the walkways around the island. The dishwasher is a prime example and space should be ample for the dishwasher door to open with large clearance where you stand to fill and empty it.
Do I need a designer to help me with my kitchen island?
We would always recommend using a professional designer to create your kitchen island. When done right this could be the best purchase you have ever made for your home. Done wrong and it could be a disaster.
Broadway Kitchens are experts in the field of designer kitchen islands and have been designing and building all types of luxury and bespoke islands for many years.
Should you require any information or help with your kitchen island design please give us a call on +44 (0) 121 353 4999 or pop into one of our showrooms for an informal chat.
About Broadway Kitchens
Bespoke Kitchens at Manufacturer's Prices
Broadway has been creating beautiful bespoke kitchens for over 40 years, are a proud family business and genuinely care for our customers' needs. Broadway's bespoke kitchens are designed to give you and your family decades of pleasure. We design, build and install kitchens all over the UK, particularly Birmingham, East and West Midlands, Staffordshire, Derbyshire, Warwickshire, Worcestershire, Leicestershire and Nottinghamshire.
---