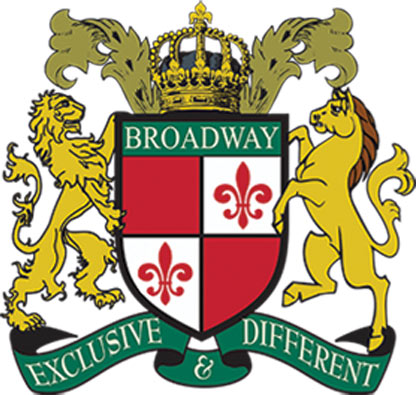 Over the past few years at Broadway kitchens, we have experienced a higher demand for home drinks bars, during lockdown restrictions we saw a huge increase in customers wanting to recreate that pub feeling in the comfort of their own homes. We rose to the challenge and are proud to have designed, manufactured and installed luxury home bars - each as unique as the property they're destined to live in.
Each of our bars is exquisitely crafted by our dedicated designers and carpenters, meaning each and every drinks bar gives their owner the opportunity to host unforgettable nights in.
Some customers come to us with a very distinct vision for their home bar - something they've seen online or in a magazine, or something completely unique to them. Whatever your source of inspiration, our in-house design and fabrication teams can bring your vision to life.
All of our cabinetry is beautifully manufactured in a range of ethically sustainable natural materials, as a company we are keen to create furniture that stands the test of time. From conception to completion, we aim to deliver luxury bespoke drinks bars incorporating innovative design solutions to suit every home.
Whether you enjoy cocktail nights with the girls, beers with the boys we believe we can create a home bar that will complement any home.
Bespoke drinks bars can be manufactured in any size or shape whether you prefer a straight edge of a traditional bar or softer curves of a circular design we are intent on producing something a little bit different that your guests will enjoy time and time again.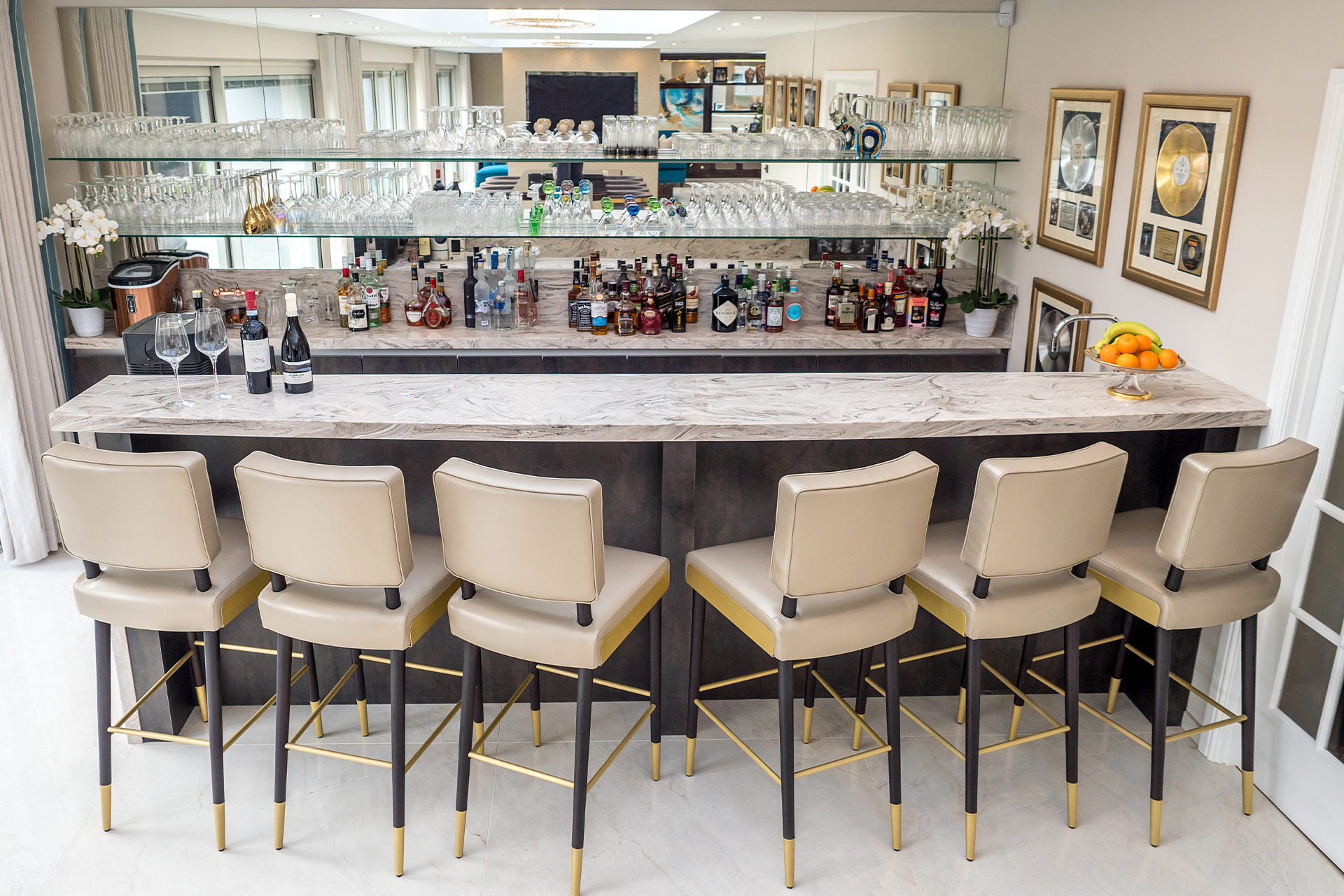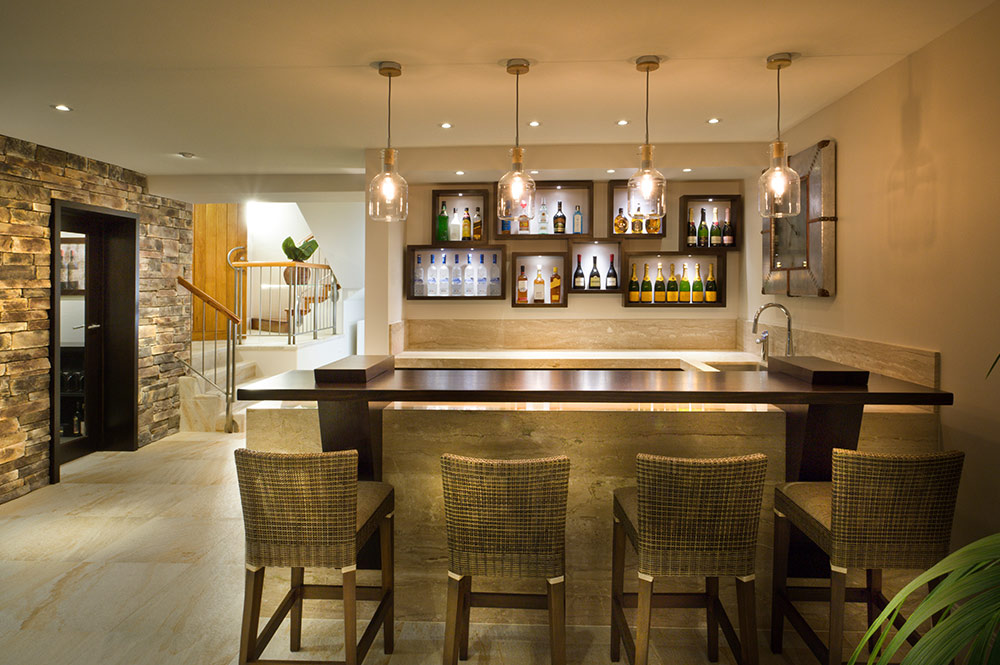 Which style of drinks bar suits your home
We have installed a number of bars with various themes, from the charming and rustic feel of a classic bar, sports bars to complement games rooms or the art deco style of a gentlemen's club one thing they all have in common is the style, class, and the fun factor they bring to a home.
Regardless of whether you want to transform a wall, corner or whole room Broadway have the industry knowledge and exceptional craftsmen capable of utilising space to its highest potential.
Like any room in your home, it's the finishing touches that enhance a space and give a room a style that reflects its owner's personality.
Adding a bar hatch and footrail to natural-coloured wooden bars can give the impression of a traditional bar, whereas back mirrors with soft lighting and muted hand painted shades emanate relaxed softer vibes. If its glitz and glam or trendy sports bar opt for underside LED lighting with colour changing settings to illuminate key features.
With a choice of bar tops available the possibilities are endless; all add to the feel and quality produced by Broadway kitchens. Our technicians have the expertise to seamlessly incorporate countertop sunken ice compartments – gone are the days of the dripping ice bucket, this innovative design with its own drainage system is mess free and sits stylishly within your worktop.
Storage is key and is dependent on the space available and individual preference, some of our clients like the visual spectacle of bottles, glasses and cocktail shakers on display on sleek glass shelving maybe set into false alcoves, others prefer minimalistic sleek designs with cabinetry designed to shut everything away when not in use. However, you want your bar to look nothing completes the look better than an engraved bar sign personalised to your specification.
Hopefully this will give you a few things to think about when considering any type of renovation, at Broadway Kitchens & Bathrooms we aim to create a serene space that is a pleasure to visit. Broadway designs, manufactures and will install your bespoke drinks bar and playroom furniture specifically to your taste. We are renowned for creating outstanding bespoke fitted furniture and have installed them all over the UK from our base in The Midlands, so contact us now and speak to one of our expert team. 0121 353 4999.