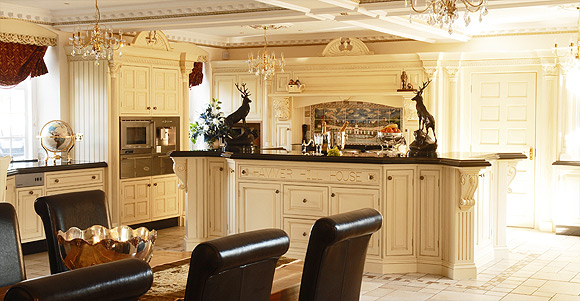 What is a 'Traditional Kitchen' and how can you achieve the look?
17th July 2018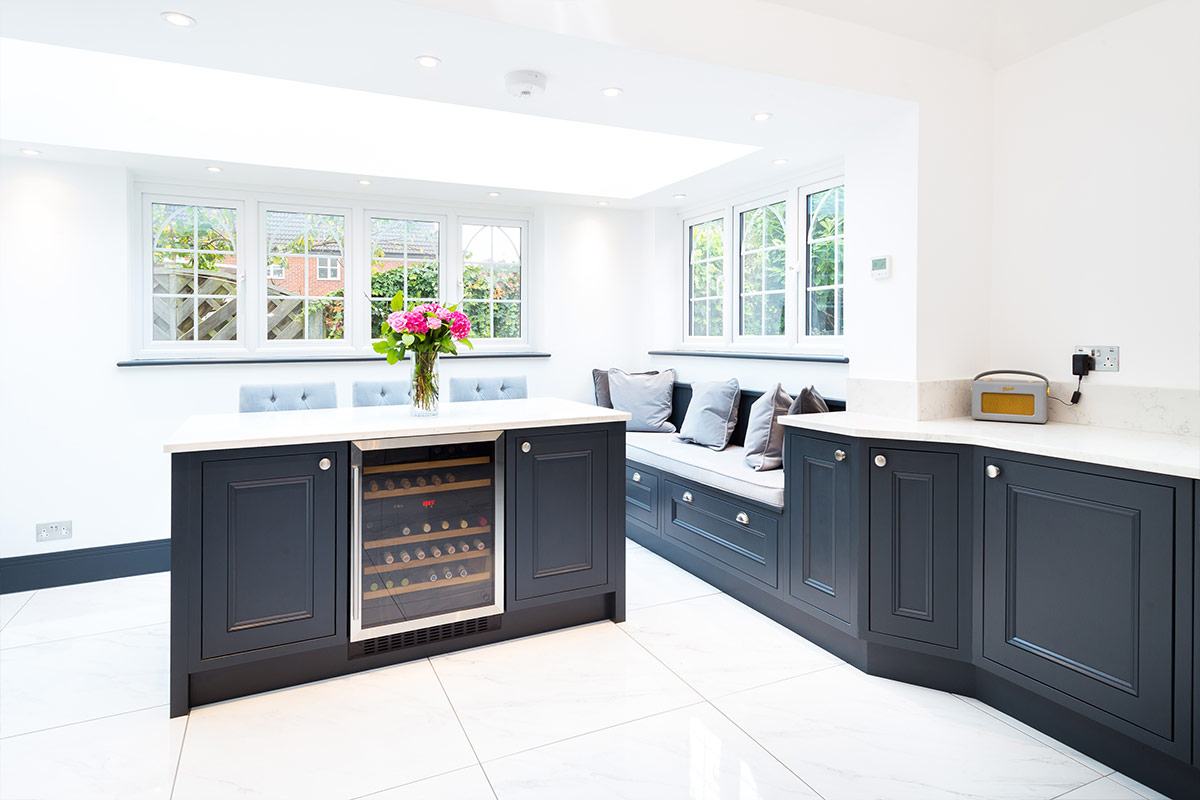 Not all bespoke kitchen designers are the same
5th December 2018
The History of the Shaker Kitchen
The History of the Shaker Kitchen
When contemplating a bespoke Shaker kitchen it's worthwhile first looking into the origins of the term 'Shaker' and what is a Shaker kitchen.
England in the mid 17th century and a religious sect, the 'Quakers' formed. Due to their animated and ecstatic style of worship, 'trembling and quaking at the word of the Lord', they became known as 'Shakers'.
Their philosophy relating to furniture was one of functional form and proportion exemplifying simplicity without ornamentation, as inlays and carvings were viewed as 'prideful and deceitful'. Showing-off was shunned in favour of elegant humble simplicity, practicality and versatility demonstrative of their ethos and lifestyle.
Consequently all furniture embodied their beliefs of cleanliness with minimal crevices for dirt to collect and, as "Friends of the Light", few places for shadows to fall, hence Shaker kitchens were born.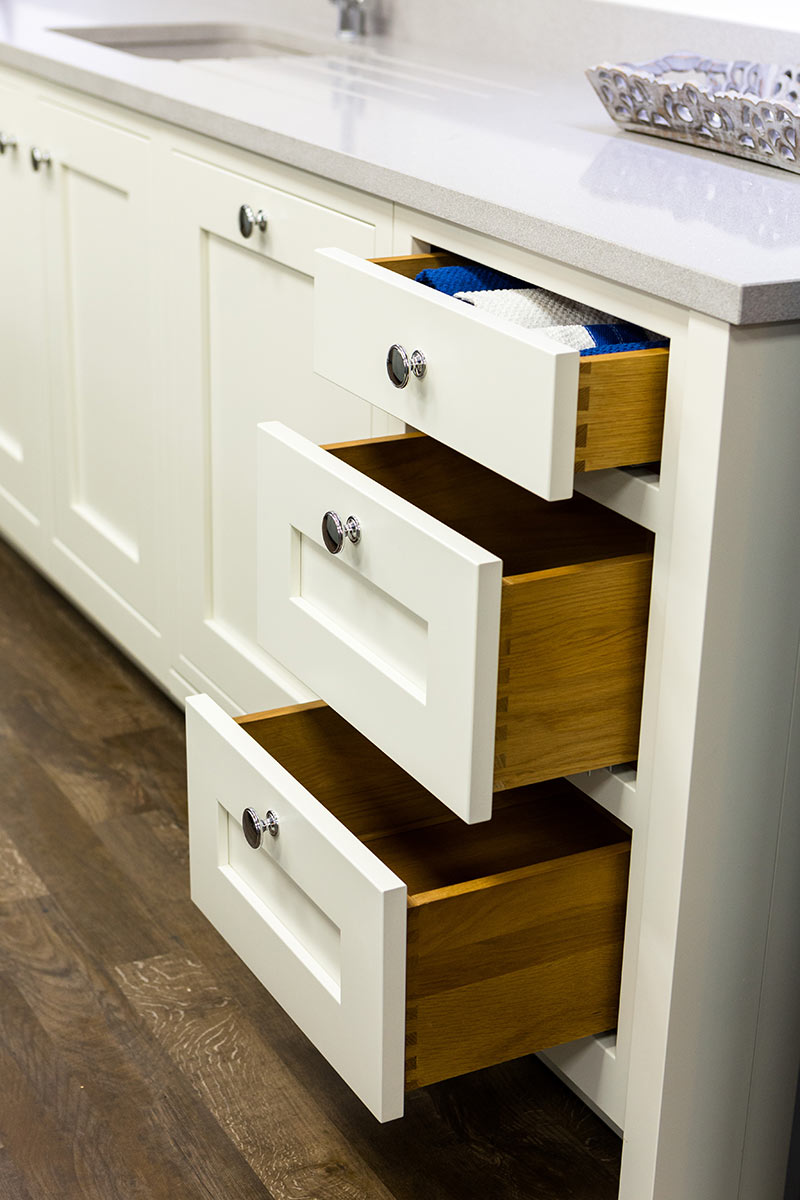 Bespoke Shaker kitchens
As each kitchen was tailor-made to suit the owner and the application it followed that every Shaker Kitchen was truly bespoke. Finely hand-crafted, well-made carpentry with fine joints and silky-smooth finishing ensured that the Shakers manufactured kitchens of quality and durability. They believed that making something well was "an act of prayer and devotion" so each item epitomised simplicity whilst displaying understated elegance, care, skill and devotion in the pursuit of perfection.
The Shaker legacy is one of fine-quality, bespoke kitchen furniture with practical austerity and a crisp smoothness of visual aspect, bringing light where there was dark – precisely what a shaker-style kitchen achieves today.
In the late 1800's into the 1900's few people had electricity in the home so most rooms were relatively dark and sombre with dark stained natural wood furniture. A new enlightened generation was emerging from post-war dark days and preference was for hand painted kitchen furniture to bring light and cheer. Even from the earliest days Shaker kitchens were hand-painted in blues, reds, yellows or greens.
Edwardian Kitchens
Around the beginning of the 20th century resurgence of those same design principles and similar taste saw the shaker style almost replicated in some Edwardian kitchens painted in chalky pastel shades of the secondary prime colours.
Even into the mid 1950's the lighter, brighter colours and minimalist ideals had overtaken the extensive ornamentation of earlier eras.
Despite the Shaker principles of plain simplicity and austerity the end result doesn't have to be boring. Discerning purchasers are on a quest to purchase a kitchen which is more exclusive and different from the stereotypical off-the shelf offerings.
The vast majority of people will always want something which is uniquely reflecting their own style and taste. Such a kitchen design will almost certainly embrace two or three different colours in the same kitchen or the addition of complementary corbels, mantle, cornices, plinths and pelmets.
Such simple embellishments can hardly be described as a departure from the principles of a Shaker Kitchen since each component follows the principles of handmade minimalism.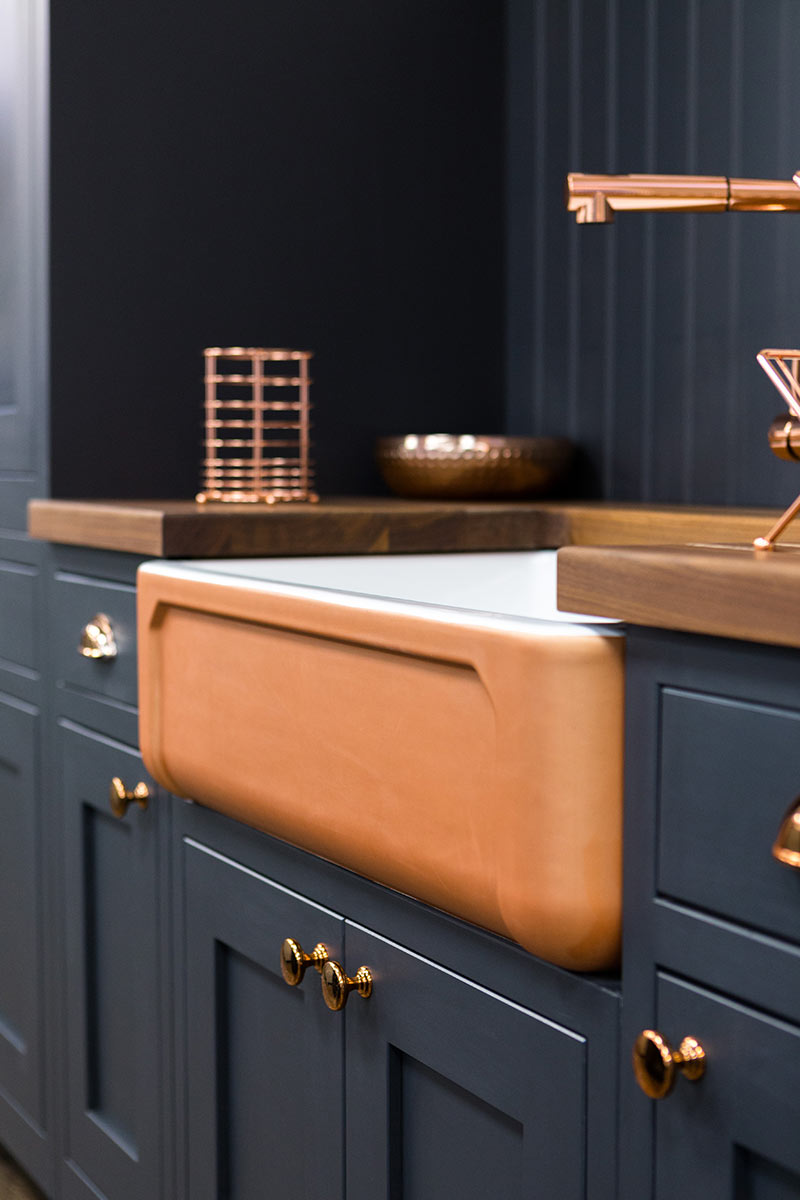 Variations on the Shaker theme
To set a kitchen apart from the run-of-the-mill Shaker without detracting from the understated elegant simplicity there are numerous variations which introduce simple yet effective styling tweaks. By using different materials, different colours and fine beadings such as quadrant beading, cocks-mouth beading, grooves, chamfers and slopes it is possible to create shaker kitchen doors to suit all tastes and lifestyles.
The possibilities are almost limitless when combining more than one or two colours with slightly different doors, drawers and handles or handle-less.
Classic Shaker kitchens
Classic Shaker kitchens continue to retain their popularity as a fine example of timeless style but bespoke design and manufacturing expertise allows some true kitchen manufacturers to integrate fish tanks or televisions without compromising the basic Shaker principles. At Broadway Kitchens we have decades of experience in successfully meeting the needs of individual customers who desire a handmade kitchen which is exclusive to them and not a series of mass-produced boxes bolted together.
'Luxury' is certainly not a word that you would associate with Shaker beliefs and principles but the hectic pace and pressures of modern lifestyles need to be balanced with little touches of luxury or modern necessity.
Current Shaker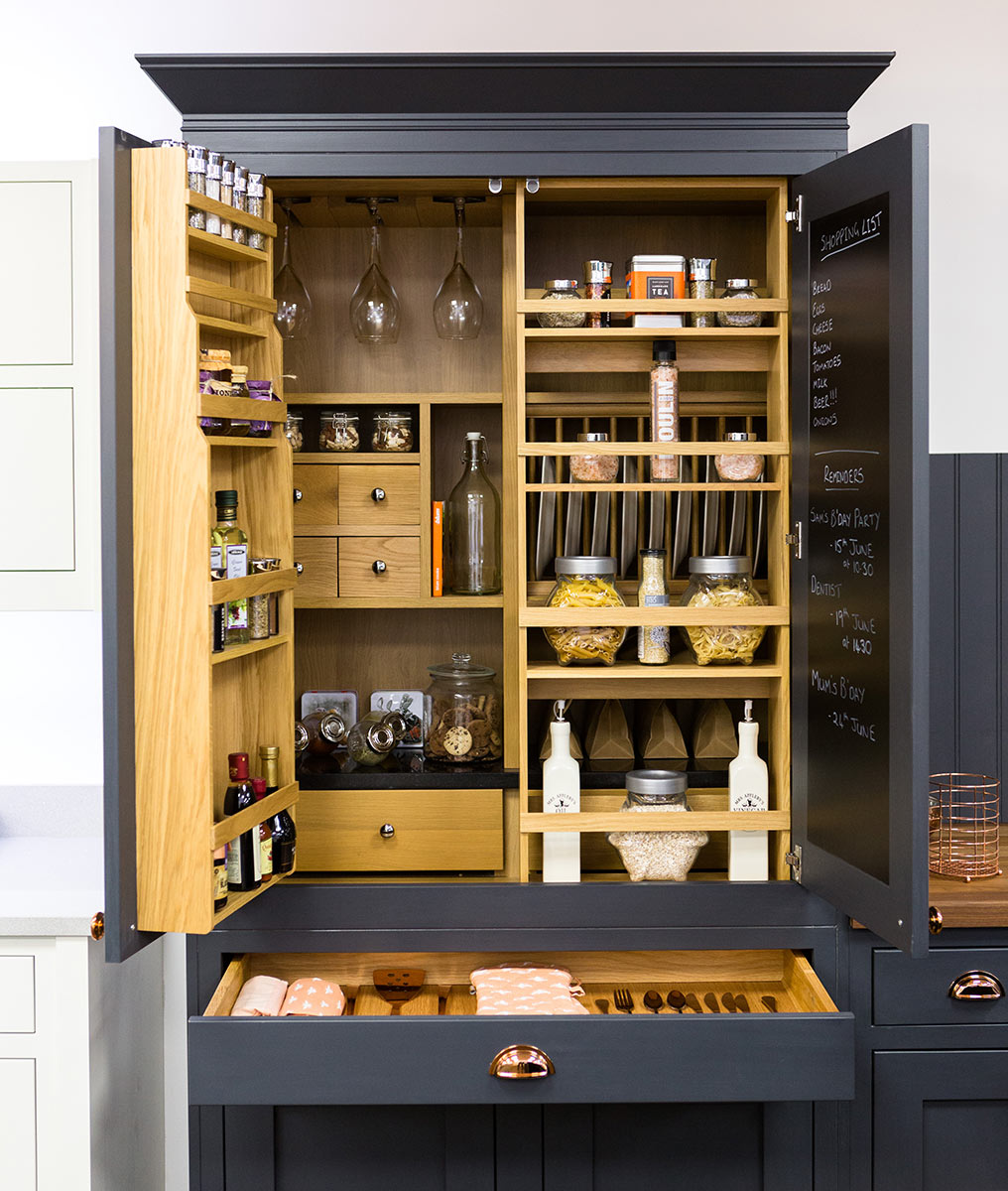 These days a kitchen is not the second-smallest room of the house where a stove and a sink sufficed to cook the family's evening meal or a Sunday roast, the kitchen is generally the heart and soul of the house where countless tasks are performed.
All such things as larder cupboards, dishwashers, microwaves and under-cupboard lighting can from part of a tasteful and successful Shaker kitchen design.
Many kitchens now encompass dining facilities in the guise of a breakfast bar, say as part of an island, or a dining table commensurate with the size of the household or the entourage of frequent visitors.
Soft furnishings, seating areas and sofas can either be integrated in complementary shades of cream, white, grey, green or ivory or in contrasting colours of blue, red, graphite, black or white to add a further dimension to the colour palette of a Shaker Kitchen.
Gone are the days of a wooden draining board as the sole kitchen worksurface as there is a wide choice of granites, quartz worktops and Corian to be practical and complementary to the cupboard colours of today. Glass splashbacks and upstands can add an accent colour while enhancing the original Shaker ethos of practicality and simplicity.
Shaker kitchens evolve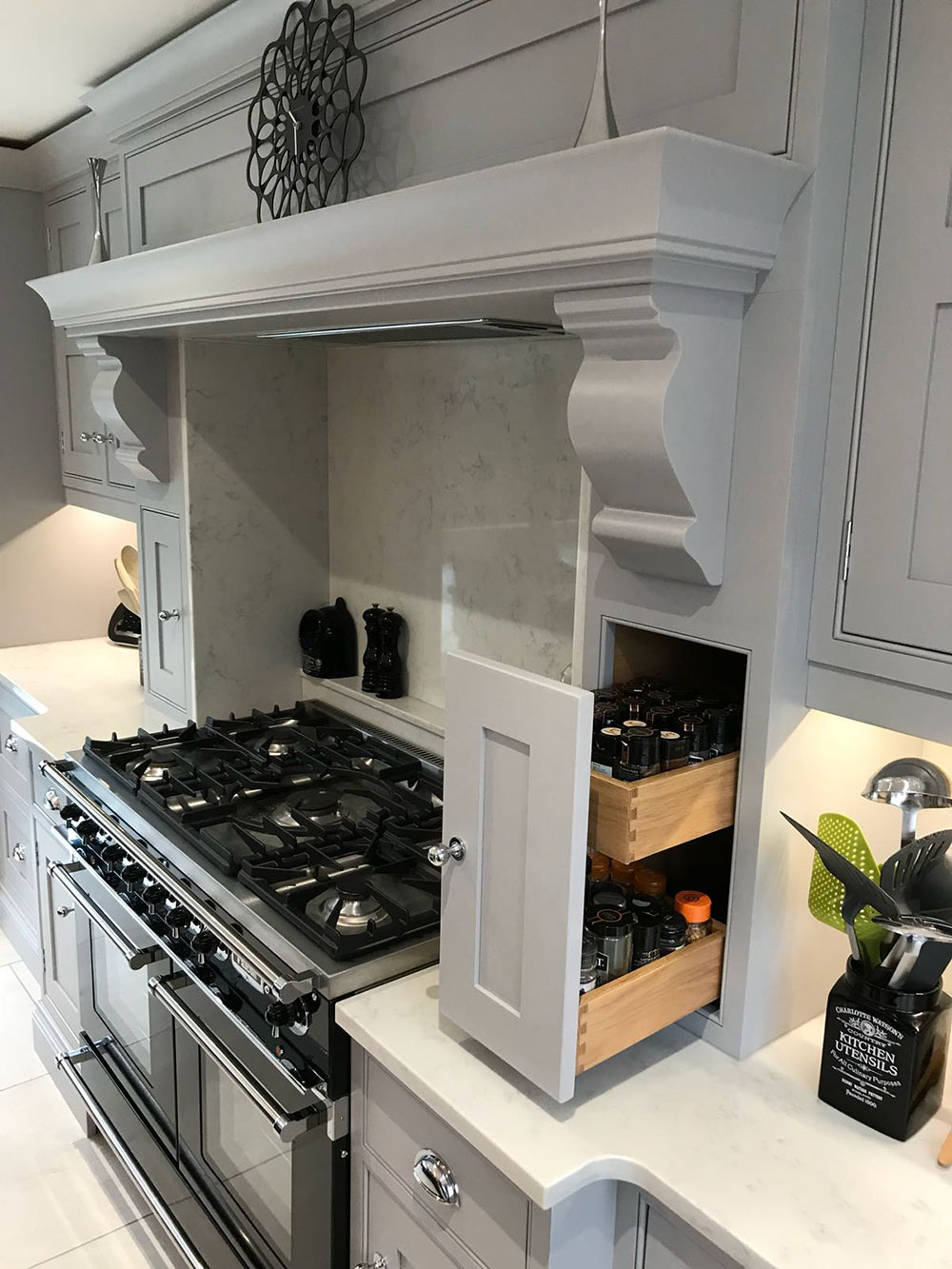 The Shaker Kitchen has evolved but certainly not lost its appeal, range cookers surmounted by a mantleshelf or full mantle with discreet cupboards and a canopy cooker hood have become an integral part of a bespoke design.
Behind the symmetrically-balanced, outward appearance of a traditional-style but modern Shaker kitchen lie the food storage and racking solutions which are integrated into the cupboard rather than clumsy add-ons nailed to the wall.
Silent drawer-runners with self-closing features, corner carousels or magic corners, bread bins, waste bins and storage towers are incorporated into the best designs to make best use of all available space without occupying worktops or floor space.
Shakers shunned showing-off so they may not have approved of glazed wall cupboards with the best china on display but it is just one of many options now available to the buyer of a hand-made, hand painted Shaker Kitchen.
Shaken not stirred
In a further 'modern twist' on the Shaker ideals a customer can have mirror-backed glazed cupboards with in-built LED lighting, chrome hinges and chrome handles, pewter finish or stainless steel to complement taps and waste fittings.
Glass splashbacks with a tasteful sparkle add a bit of subtle bling.
Dovetailed drawers or metal-sided drawers and pull-out storage units give customers more scope and choice to create the shaker kitchen of their dreams.
Whether a customer desires the 'real-deal' in-frame Shaker kitchen or one with 'plant-on' doors a kitchen manufacturer rather than just a supplier can easily accommodate the requirements of the customer and meet the demands of budget constraint.
Broadway is a long established kitchen designer-manufacturer based in The Midlands.