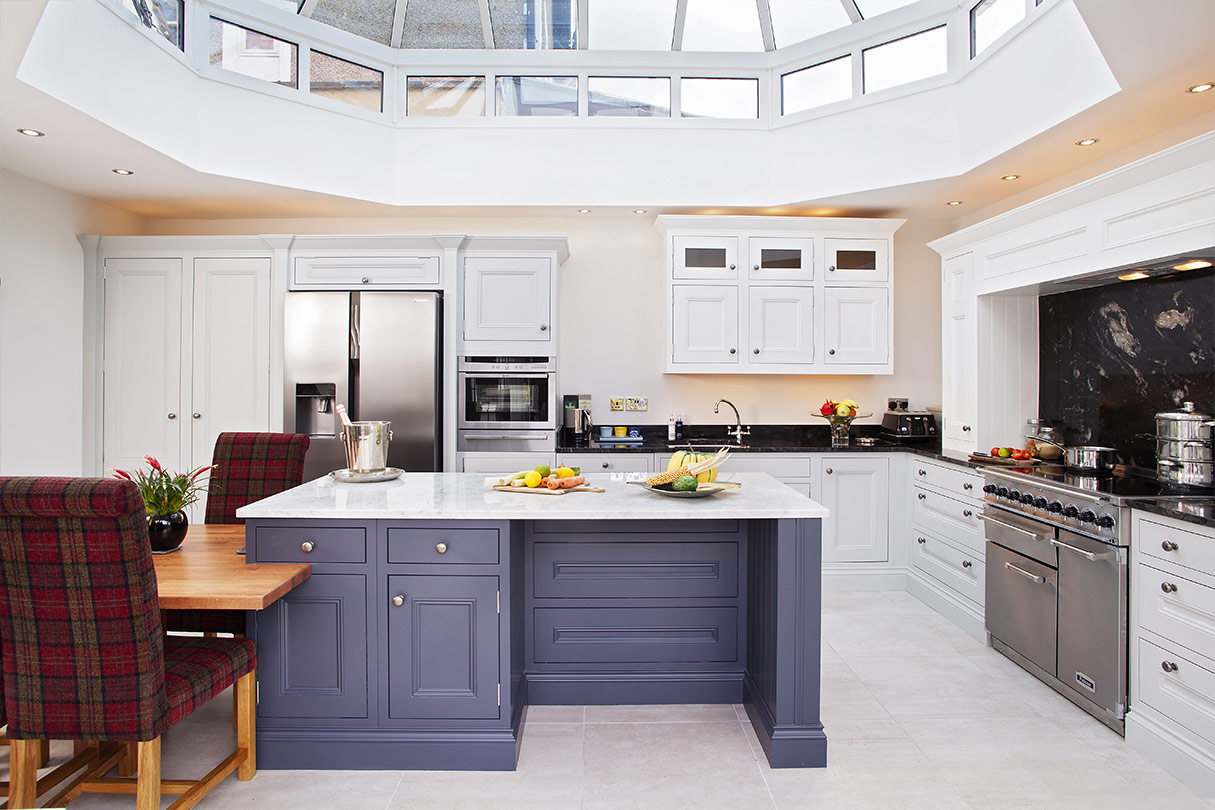 The Broadway 'Fusion' In-Frame Kitchen
16th July 2018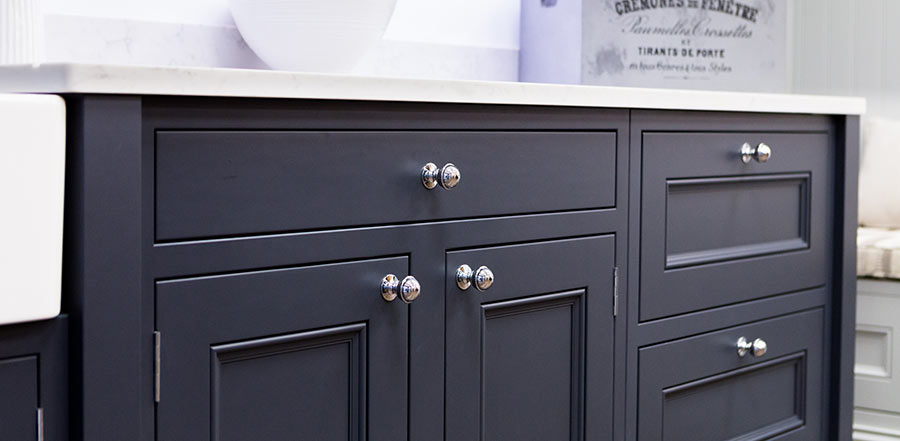 The History of the Shaker Kitchen
30th July 2018
What is a 'Traditional Kitchen' and how can you achieve the look?
The term 'traditional kitchen' most likely evokes different images for different people, according to what type of kitchen they are used to living with.
To me, a traditional kitchen, is an in-frame kitchen, with either a Shaker or raised and fielded door design; a butlers / Belfast style sink accompanied by thick, traditional granite work-tops and possibly a range cooker such as an 'Aga' or an 'Esse.'
On the other hand, those used to ultra modern, high gloss, streamlined kitchen designs with 'wafer thin' work-tops and the very latest, hi-tec, integrated appliances might consider anything less 'cutting edge' to be a traditional kitchen design; it simply depends on ones perspective.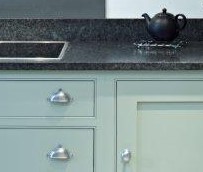 Left: This image demonstrates the 'in-frame' approach, where the door sits within a door frame (the proper way of hanging a door) rather than the door sitting on the facia of the cabinet.
In this instance, a Shaker door style has been used and a contemporary flavour given with the use of a thin, clean edged, work surface material.
The 'In-Frame' Traditional Kitchen
Within the luxury, bespoke design and manufactured, in-frame kitchen furniture market, the flexibility of a custom made service allows you to really be as traditional as one likes.
Time honoured traditional cabinet making techniques, beautiful solid timbers and luxurious veneers and paint finishes are used within the furniture's construction.
A very traditional look; perfect for the country cottage, farmhouse per period residence can be achieved. Alternatively, a look that carefully fuses traditional and contemporary styling yet still manages to maintain that slightly traditional feel is also possible. This style of traditional kitchen represents a design balance that's presently very much in vogue.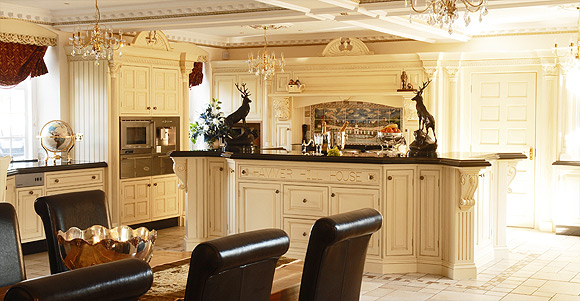 This in-frame kitchen design is altogether more traditional with its mid Victorian, gothic, styling to include reeded columns, ornate, carved corbels, raised and fielded door design, elaborate mantel, double water fall edged granite work-top and of course; the oil fired AGA.
This in-frame kitchen blends traditional and contemporary styling. One could say that it has overtones of the 'Edwardian' period that marked a trend for a more pure, simplified design approach than that seen in the previous 'Victorian' era.
However, this kitchen is clearly very much 21st century with its high performance, modern take on the free standing range cooker with its induction hob, large American style – fridge freezer and eye level, integrated oven and warming drawer.
The Flexibility of a Bespoke Design and Manufacturing Service
In times where every kitchen company seems to use the word 'bespoke' within their marketing, it's important for you to clarify the extent of the 'bespoke' service that's on offer.
If it's simply bespoke tailoring of pre-set, 'off the shelf' furniture ranges you might well struggle to achieve the traditional kitchen look that you're after, since cabinet size, door style, finish and accessory choice will be very limited.
However, if they offer a true 'bespoke' design and manufacturing service similar to that offered by 'Broadway Kitchens,' then that's an entirely different proposition.
This style of service will allow you to go very traditional with a true period style to suit your tastes as well as the architectural period and style of your home. Or you could stylise your traditional luxury kitchen design with up to the minute, exciting accessories to include handles, worktops, appliances and colour finishes / timber finish combinations.
At Broadway Kitchens, the 'traditional kitchen' is whatever you want it to be; the only limit is your imagination.