Are Shaker Kitchens Still Trendy?
2nd August 2021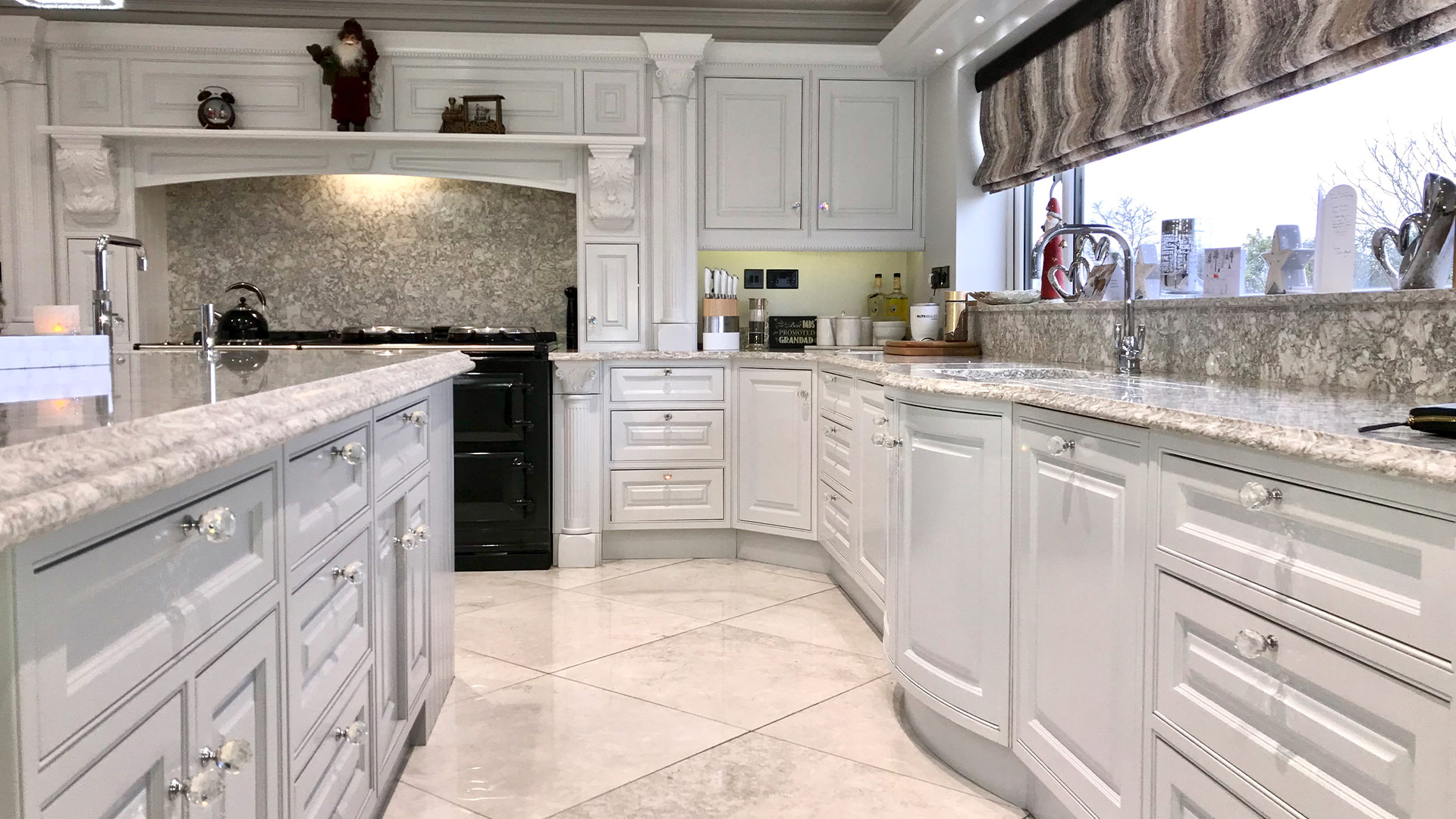 Are Luxury Victorian Kitchens Still Popular in 2021
14th December 2021
Broadway Kitchens Manufacturing Site and Processes
Broadway Kitchen's Workshop
Bespoke Kitchen Manufacturing Site
Broadway kitchens manufacturing site is based in the heart of the West Midlands, Walsall in close proximity to where it all began back in 1974. We have been entrusted by our customers to hand craft luxury bespoke kitchens and install them into people's homes across the country for decades. Having manufactured over 15,000 kitchens we have gained a reputation of providing superior quality kitchens that are built to stand the test of time.
Upon agreeing your tailor-made design our craftsmen begin the task of turning your dream kitchen into a fully functioning reality. Over the years our workforce has gained a wealth of experience and knowledge and this we believe is what gives Broadway kitchens the edge over our competitors. There is simply no substitute for quality workmanship and all our master craftsmen strive to exceed any expectations you may have.
Ecological sustainable wood
We are well established manufacturers and only use ecological sustainable wood when creating our kitchen furniture. Our Production Director has forged excellent working relationships with numerous supply chains over his many years with Broadway Kitchens, ensuring the materials we use are of the highest standard. All of our bespoke handmade cabinetry can be created using Ash, Oak, Walnut, Beech or Birch. As a three generational family run business, we are keen to source materials that will not impact on future generations and politely refuse any requests for the use of endangered woods such as Teak, Mahogany or Ebony.
State of the art technology
Our manufacturing facility is fully equipped with all the latest state of the art technology enabling us to deliver one off creation's unique to each of our clients. In the fast-paced world we live in Broadway kitchens are keen to encourage development research into the latest technologies to help us stay ahead of the game and provide clients with diverse and innovative kitchens they will treasure for a long time.
However, having said that we don't want to stray far from the path that has served us so well for almost 50 years. We are renowned for designing, manufacturing, and installing luxury kitchens and this is down to the creative flair of our designers and the expertise of our craftsmen. Broadway kitchens are fortunate enough to have employed a handful of master carpenters for a number of years and they are eager share their adroitness with craftsmen of the future as part of our ongoing training programme. Within our manufacturing unit traditional methods of carpentry are still very much at the forefront and the attention to detail in each piece of kitchen furniture that is hand crafted is meticulous.
Broadway Kitchens enthusiastic team have an eclectic wealth of knowledge when it comes to the finish of your kitchen. By keeping up to date with the latest techniques we afford our customers the luxury of a multitude of colour choices. All kitchen furniture can be spray painted, hand painted if you prefer a more traditional finish, or timeless elegance of the natural wood look we aim to accommodate all tastes and styles.
There can be pro's and con's to which ever finish you choose but our specialist team of in house painters at Broadway Kitchens endeavour to create a completed look that will enhance the woods natural individuality.
Hand Painted
A hand painted kitchen is the ultimate luxurious finish and though time consuming the results are outstanding.
Following the conformity of the wood grain allows the natural beauty of the material to be visible.
When choosing a hand painted finish, you are in theory future proofing your kitchen. Over time it is inevitable that scuffs or scratches appear due to general wear and tear of everyday life. This is probably the hardest working room in any household, but these can be easily touched up within your own home.
You will receive a truly unique finish with evident brush strokes that can only be obtained from a hand painted finish so if you are aiming for perfection this maybe isn't the ideal choice, we'd recommend for you.
Spray Painted
A spray-painted finish looks sleek and flawlessly smooth.
A lacquer is added to the paint to for protection and added durability.
Application time is a lot quicker, so if you are looking for bespoke quality with a speedier turnaround this may be the option for you.
The finished look will be a lot more uniformed than that in a hand painted kitchen.
Doors can be resprayed over time with a different colour selection but will need to be removed and taken to a specialist area to carry out the work.
Exposed Timber
Exposed natural finishes offer an earthy feel, that create a sense of warmth and cosiness.
It was one of 2020's biggest kitchen trends and it seems to be getting ever more popular, with clients wanting to embrace natural materials and showcase them to their full potential.
With varied grain details this style is like a good wine it gets better with age, tonal changes incurred by daily use add to the rustic charm.
Broadway kitchens is one of the few companies that do not have promotional sale periods this is due to our going commitment to offer price transparency. Our prices are the same all year round why bump it up to knock it down what you are quoted is what you pay for. We are able to keep our prices within a sensible structure because all of our bespoke kitchens are manufactured by us, cutting out the middleman. We own all our own equipment and manufacturing site, this enables us to handcraft one off pieces of luxury furniture specifically tailored to our customer's needs.
Truly bespoke service by master craftsmen
Our contemporary designs are fully assembled by hand to ensure high quality and accuracy. Broadway kitchens welcome all customers to our manufacturing site to view their finished products before we install them into any home. This gives our customers a unique opportunity to see and touch their deluxe kitchen beforehand. Our non-standardised carcasses can be tailored to height and depths as required, our hinges open up to 155 degrees in comparison to standard 90 degrees and our robust dove tail drawers can hold up to 22kg in weight, we are so confident in our workmanship all our kitchens come with a guarantee as standard. Every cupboard door, drawer, cornice, pelmet, and plinth are meticulously checked before being carefully packaged and transported to your home.
Our master craftsmen refuse to compromise on quality, and we believe this is one of the reasons our customers are keen to recommend us. We have a desire to continue to be trailblazers in the kitchen design and manufacture industry and are positive you will treasure our bespoke luxury kitchen furniture for many years to come.