Visit our Midlands Showroom
Viewing our bespoke kitchens, bedrooms and bathrooms on our website may give you a visual idea of how we could make your dreams come true but that is no substitute for physically experiencing the feel and quality of our hand-made furniture.
We would be delighted to welcome you to one of our showrooms where you can browse at leisure whilst enjoying a great cup of tea or fresh ground coffee... but don't expect to be greeted by a salesman - just a designer willing to apply 40 years experience who will work with you in turning your dream into reality.
Broadway Kitchens
138 Hardwick Road
Streetly, Sutton Coldfield
West Midlands B74 3DP
You can telephone our Midlands showroom on +44 (0) 121 353 4999
Email us on enquiries@kitchensbybroadway.co.uk
For your convenience we have FREE parking directly outside our showroom.
Opening hours: Monday to Saturday: 9.30 am - 5.30 pm
Sunday: by appointment only.
Request a Call Back | Email us an Enquiry | Request a Brochure
Our customers are so proud of their Broadway kitchens that they are often willing to allow us back into their homes to show our potential new customers their kitchens - ask us if that is something you would like to do.
We are equally proud of our expertise in manufacturing so you are welcome to visit our workshops to see our craftsmen at work and to see your own kitchen being manufactured.
Telephone our Walsall Showroom and Workshops on +44 (0) 1922-611058
Any Questions?
If you have any questions for us please give us a call or complete this Enquiry Form, and we will reply as soon as we can.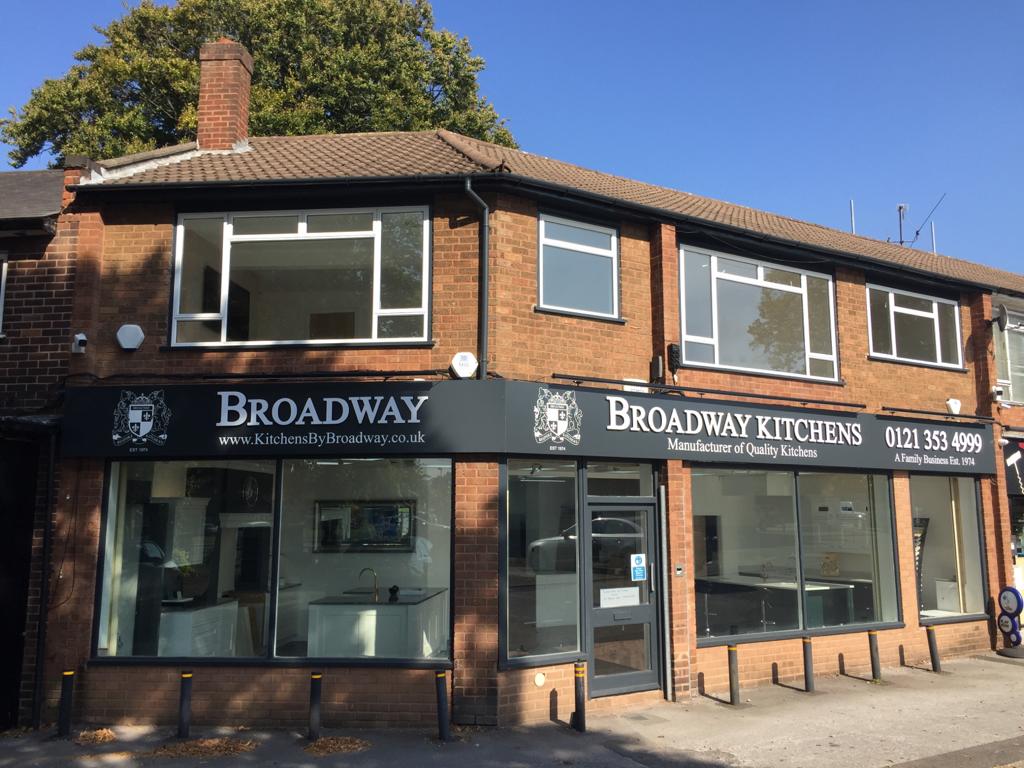 Why travel to Broadway Kitchens in The Midlands
By the time that you've scoured the internet and flicked through directories to find suitable retailers and suppliers to visit, in the hope of finding 'just the right thing', it would be easier to travel direct to us as a manufacturer, where your kitchen can be made to your own exacting requirements at sensible manufacturer prices.
Not only would you be talking directly to the designer and manufacturer but you would be talking to the owner of the machinery and the carpentry workshops. As there's no middleman and our workshops are based in the West Midlands our overheads are substantially reduced. You will be surprised just how much you can save if you commission a Broadway creation. (Thousands rather than just hundreds of pounds – backed-up by our price promise).
If you are travelling long distance to visit our showroom, please call us in advance and we'll arrange a light lunch, without any obligation.
Alternatively, as we are located at the heart of the UK transport network we can easily access anywhere in the country within a reasonable timescale and will happily visit you.
Request a FREE brochure
Ask us for a free brochure to be delivered to your home - by telephone +44 (0) 121 353 4999 or complete our simple and fast Brochure Request form.
Packed full of beautiful kitchens designed and installed by us, a UK kitchen manufacturer with many decades of experience and over 12,000 satisfied customers.